Do you feel like your progress as a drummer has hit a wall? Are you tired of practicing without seeing any real results over time? You're not alone. In fact, I've heard this same story from literally thousands of drummers over the years. We all get stuck in a rut from time to time.
My good friend Mike Michalkow, a drum instructor with 20 years of experience, decided to do something about it. He put together a simple step-by-step approach to guarantee steady progress for anybody interested in improving their drumming. It's called the Practice Routine Generator, and I talked him into letting me share it with you here. It will help you:
Create a systematic approach to improving your drumming every single day.
Develop a balanced approach so that your progress builds steady momentum.
Learn new beats and fills for Rock, Jazz, Latin, and other musical styles.
Steadily improve your hand technique, foot technique, and overall speed.
Improve your confidence when jamming with friends or playing with music.
Mike has spent the last 20 years teaching drums to literally thousands of people, just like you, in both private drum lessons and in live clinics across North America. Don't let the simplicity of this solution fool you. He has shared it with thousands of people and it really works!
Download your free Practice Routine Generator today to see for yourself. There is no shortcut to success on the drums, but with this system you can simply focus on steady progress knowing you are on the right track every step of the way! Simply fill out your e-mail address to get it now.
To Your Drumming Success,

- Jared Falk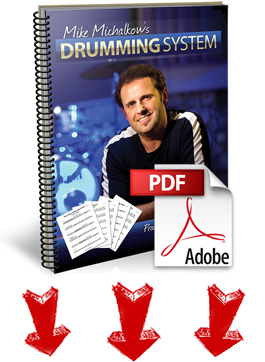 Enter your email address below
to receive your FREE Practice
Routine Generator now.